BSO A level Music Concert
BSO A level Music Concert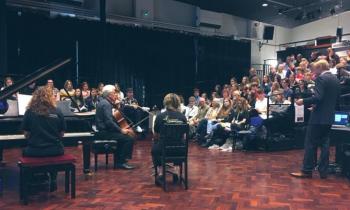 A level Music students at Peter Symonds College took part in the Bournemouth Symphony Orchestra (BSO) Set Works LIVE! A Level concert. Peter Symonds College Head of Keyboard Samantha Carrasco, a BSO Associate Musician, co-ordinated the event. PSC students were joined by music teacher colleagues and A level Music students from across the region. The programme included two works by major female composers.
Designed around the Edexcel music syllabus and offering a highly interactive setting in which to analyse and dissect set works, the concert was presented by BSO Associate Musician Patrick Bailey. Siobhan Clough, violin and Lionel Handy, cello joined Sam Carrasco in the performances of set works by Clara Schumann and Debussy. The programme also included a rare chance to hear 'Petals' for solo cello and live electronics, by the Finnish composer Kaija Saariaho, with Drew Crawford, sound artist. Students had the chance to experience and engage in live musical analysis in great detail, aiding further understanding of these works.
Lucy Anderson, A level Music student on the Hampshire Specialist Music Course, said 'the concert was very useful in helping me understand these set works, but also very enjoyable.'
Rachel Platt, Head of Music, said 'what a pleasure to attend a 2-hour concert in a packed Varley Theatre, and to see so many students experience these live performances with such enjoyment and complete concentration.'
For further information about this article or the college in general, please contact our Marketing department by telephone on 01962 857553 or by email marketing@psc.ac.uk.