Peter Symonds College students celebrate fantastic results once again
Peter Symonds College students celebrate fantastic results once again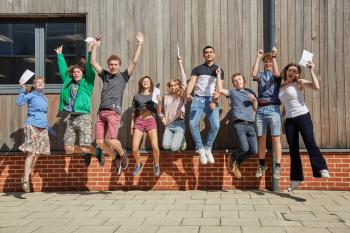 A level and vocational qualification results for 2019 at Peter Symonds College are once again absolutely outstanding. The pass rate for A level stands at 98% with over a third of the grades awarded being at A* or A (34%). The proportion of the very highest grades (A*, A, B) is an impressive 62%.
The pass rate for vocational courses is a superb 99.5%, with 80% of grades awarded at Distinction or above.
Overall Statistics
A level (full) Pass Rate: 98%
A level Grades A*-C: 82%
A level Grades A*-B: 62%
Vocational Course Pass Rate: 99.5%
Distinction or higher: 80%
Highlights
A third of A level grades awarded were at A* or A.
12% of A level grades were the very top A* grade – 659 A* grades overall.
127 students got A* in maths A level alone.
Nearly two thirds of A level grades were either A*, A or B: the very top grades needed to get into the best universities.
All but one of the 272 vocational qualifications undertaken were successfully achieved.
Over 70% of grades awarded for the Extended Project Qualification were at A* or A.
Principal Sara Russell said: "It is a very proud day for the College, the staff and the parents. But above all, it is a remarkably proud day for our students. Their tireless hard work, focus and dedication really has paid off. I am thrilled. This shows that Symonds remains the perfect place for ambition."
Twins Chris and Patrick Lotery both achieved an incredible five A* stars, with both attaining top grades in Maths, Further Maths, Physics and the Extended Project Qualification, and Chris achieving an A* in Chemistry while Patrick gained an A* in Spanish. Patrick said, "There's definitely healthy competition between us and we did spur each other on. We're really pleased for each other."
Former Wyvern student Vedanshu Mahajan, who will be taking up a place to study Natural Sciences at Cambridge next month, said, "I'm glad that the subjects I took turned out so well. I was expecting a B in Maths and got an A* so I'm really happy about that. There are no words to describe it really! I've been so lucky to have the nicest teachers that have pushed me and helped me to stay on the right path; I'm just so thankful and fortunate!"
His father, Sumeet Mahajan, added, "I'm feeling very proud of my son and very relieved, his years of hard work have paid off. Symonds has been a stepping-stone for great things to come. There have been lots of ups and downs along the way, but without the collective effort of the college staff and pastoral support he wouldn't be where he is today."
Oliver Worrall, who went to the Henry Beaufort School in Winchester, achieved the highest grade of D*D* for his BTEC Diploma in Business, and gained an A level in Law. He said, "It was a challenge but I really enjoyed the practical applied aspects of the course and much preferred the continual assessment approach over a final exam."
After collecting his results from the College student Robert Wolfe was heading straight to the ferry to The Netherlands to take up his place to study Economics at Maastricht University. He said, "I'd always wanted to study abroad and the Careers Department highlighted The Netherlands as a great option as universities there offer a high proportion of courses which are taught in English." He added, "The fees are considerably less than those in the UK and it's a great option, but only for EU citizens so sadly might not be available for British students after Brexit."
Mojo Akinyemi from Basingstoke took an interesting route to her place at studying English at Jesus College Cambridge. "I started at Peter Symonds two years ago wanting to be a pharmacist or study law, but completely flipped my subjects. Careers and my tutor were supportive and helped me change my subjects. The College and my teachers made me realise my true passion and now I'm doing English at Cambridge!"
A considerable number of students from Peter Symonds have been offered places at a number of leading conservatoires and universities across the country. Music student Freya Mackenzie is off to study Music at the Royal Welsh College of Music and Drama. She described herself as "Really, really happy! I was on the specialist course here, the teachers are really good and involved and there were loads of chamber opportunities as well as solo performances, which made it a lot of fun."
For further information about this article or the college in general, please contact our Marketing department by telephone on 01962 857553 or by email marketing@psc.ac.uk.