A Level & Vocational Results Day: Thursday 15 August 2019
A Level & Vocational Results Day: Thursday 15 August 2019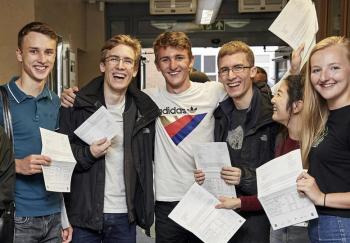 A level and Vocational results will be available for our students on Thursday 15 August. We look forward to congratulating them on their achievements.
Students will be able to access their individual results on-line from early in the morning, but official hard copy of results can be collected by students from the college between 9.30am and 10.30am on the ground floor of the Ashurst building. We look forward to seeing as many students as possible then to celebrate their success. Refreshments will be available.
Remember, students must have some form of photo ID with them (e.g. their student ID card or driving licence) to collect their results envelope.
Afterwards, uncollected results will be available from Reception in Northbrook between 11am and 3pm. Any remaining envelopes will be posted second class.
Our priority on Thursday will be to help and support upper sixth students with their higher education and employment plans. The staff on duty will be busy seeing those students who come into college, so we will not easily be able to answer queries by telephone or email. Please note that teaching staff will not necessarily be in college on results day as it is still the holiday period.
The Hopkins study area will be open for students wanting to log on to their college IT accounts and access the internet.
The Careers department in Ashurst will be open every day from Thursday 15 August for students needing advice and guidance following their results.
Please can all visitors to the campus take care and heed all safety notices as there is building and maintenance work taking place.
Note: GCSE results are published next week on Thursday 22 August
For further information about this article or the college in general, please contact our Marketing department by telephone on 01962 857553 or by email marketing@psc.ac.uk.