Students profit from hands-on business experience
Students profit from hands-on business experience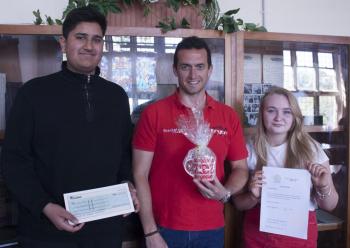 A group of Business students had some real life experience running their own companies – complete with an entrepreneurial investor.
Students on the Level 2 Business course took part in the #enRich50 challenge to set up and run a mini company from a loan of £50. Students formed companies and developed ideas and business plans for producing and selling a range of items, and then pitched their ideas 'Dragons' Den' style to senior staff at the College.
Local entrepreneur and Symonds alumni Chris Rees, founder of ReesLeisure, visited the College to hear business proposals from each team, offer some advice and to bravely invest £50 of his own money in each business.
Chris returned to the College last week in the hope of recouping his investments. Five of the six teams were able to pay Chris back his £50, with several making a small profit. All profits were put together and donated to the Teenage Cancer Trust, a charity chosen by the students.
The most successful company was 'Mugz With A Z', who tapped into the Christmas market selling mugs filled with hot chocolate, marshmallows and candy canes, and successfully recouped their £50 investment and made the most profit.
Commenting on the activity, Chris said "I studied business here at Symonds 15 years ago, and a feasibility study completed as part of my course became the start of my business plan. It's been great to be able to help, support and give students studying business today some real life, realistic experience and to give them some viable targets."
He continued "It was a pleasant surprise to see how well they did and great to see the profits going to charity."
Student Olivia Hunt was part of the team running Teerific, a business selling handmade teabags. She said of the experience, "I really enjoyed this project, even though I found it difficult at times. I've learnt team work and communication skills, and although doing the presentation was quite nerve-wracking it was a good experience. Sometimes our business was failing, sometimes doing well. It gave me a good view of how businesses work in the real world."
For further information about this article or the college in general, please contact our Marketing department by telephone on 01962 857553 or by email marketing@psc.ac.uk.