Record year for Peter Symonds Sports Teams
Record year for Peter Symonds Sports Teams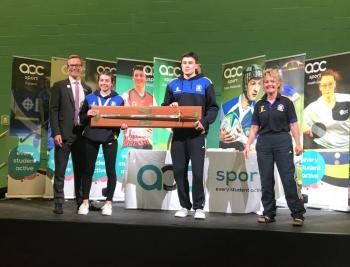 Students from a variety of sports teams at Peter Symonds College are celebrating an impressive range of achievements in the Association of Colleges (AoC) National Sporting Championships and Cup Finals.
Fifty-eight students from Symonds competed at the Association of Colleges National Sporting Championships in Nottingham, the largest team representing the South East, competing in eleven different events.
The team from the South East were the Wilkinson Sword winners for the third year in a row, finishing with 210 points, ahead of arch rivals South West, who claimed the runners-up spot with 168 points.
More than 1700 students from 131 colleges took part in 13 different sports at the University of Nottingham and surrounding areas.
Peter Symonds Women's Hockey, Women's Cross Country and Men's Table Tennis teams took gold in their respective events, with silver medals awarded in Women's Badminton, Women's Squash and Men's Cross Country. The Men's Golf and the Tennis teams won bronze medals, as did the Women's Rugby team which included a player from Symonds. The Cricket team was awarded fourth place.
Symonds had further reason to celebrate when Lynne Gardner, Head of Activities at Peter Symonds, was awarded the AOC 2019: Hall of Fame Award, for "staff who have made a continuous commitment and significant contribution to college sport and physical activity."
In addition to success at the AoC Championship, sports teams from Peter Symonds have reached a record five AoC Cup Finals, winning the Cup in Men's Hockey 4-0 against Farnborough, beating Hills Road 4-0 to win the Women's Hockey Cup, and beating Barton Peveril 1-0 in Mixed Hockey. The Badminton team drew 5-5 against Newcastle under Lyme in their national final, but won due to an extra set won by Pushpit Bhardwaj.
The Men's Volleyball and Women's Football teams came runners up in their respective AoC National Cup Finals against Newcastle College and Itchen College.
Lynne Gardner, Head of College Sports and Activities at Peter Symonds, said: "These are incredible results and some of our best ever. Our sports teams continue to go from strength to strength and it's great to see the hard work and dedication of our students and their coaches pay off. Sport gives students so many opportunities and benefits, from increased fitness and better health to skills in team work, communication and leadership. It's wonderful to celebrate so many successes but also really rewarding to offer all our students so many chances to participate at all levels."
For further information about this article or the college in general, please contact our Marketing department by telephone on 01962 857553 or by email marketing@psc.ac.uk.