NATO talks strategy and challenges with Politics students
NATO talks strategy and challenges with Politics students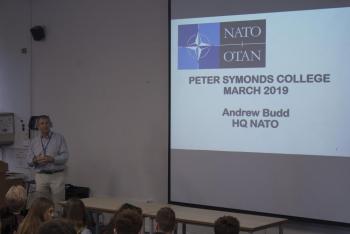 The Politics department at Peter Symonds College recently hosted an illuminating talk from Andrew Budd on NATO, detailing the organisation's current position and the challenges it faces.
A former British Army officer, Andrew was previously in charge of all NATO operations in Afghanistan and since then has been involved in various areas of NATO policy and strategic planning. His talk focused on the role of NATO and how shifting global politics, including Russia's aggressive foreign policy and the rise of ISIS, impacts on the organisation's strategy.
After his talk Andrew stayed on for a lengthy question and answer session, giving students a real insight into how a multilateral organisation operates and maintains unity in the face of divergent national priorities and policies.
Commenting on his visit, Andrew said, "I was grateful for the opportunity to come to talk to Peter Symonds Students to talk about NATO and its current challenges - and also grateful for the enthusiastic interaction of the students. I wish them all the best for their exams and for solving all the problems my generation have left behind!"
Students were fascinated by Andrew's talk, commenting "[the] presentation was engaging, interesting and most importantly relevant, both to the Politics course and to the wider world and the issues we currently face," and "it was really interesting to hear his take on the changing role of NATO in recent years, particularly regarding the threat of Russia and the serious challenge it poses to the West."
For further information about this article or the college in general, please contact our Marketing department by telephone on 01962 857553 or by email marketing@psc.ac.uk.