Impressive number of conservatoire places for Music students
Impressive number of conservatoire places for Music students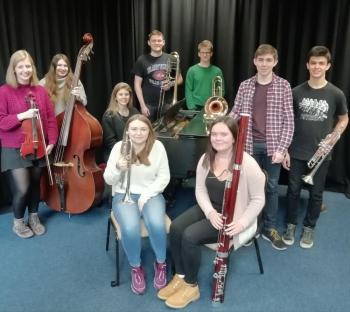 Music students at Peter Symonds College are celebrating winning an impressive nine places at prestigious conservatoires around the UK.
Music students from Peter Symonds have been offered places at a number of leading conservatoires including the Royal Welsh College of Music and Drama, the Birmingham Conservatoire, the Royal College of Music and the Royal Academy of Music. Four students have been awarded their places on full scholarships.
Student Freya Mackenzie commented 'I feel very honoured to have received an offer from Royal Welsh College of Music and Drama. As I play the violin, getting offers and opportunities is very competitive as so many people play. I feel a mixture of relief and pride that all my years of hard work have paid off, as well as extremely excited to start off my professional career in September!'
Double bass player Georgia Sims added 'Studying at Royal Welsh College of Music and Drama is such an exciting opportunity at an excellent institution. I feel incredibly lucky to have the chance to study there and it has been a dream since I was in secondary school. It has felt like I have achieved one of my life goals and I cannot wait to attend.'
Rachel Platt, Head of Music at Peter Symonds College, commented: 'We are incredibly proud of our students' successes. Competition for conservatoire places is extremely fierce and this achievement reflects our students' abilities and their hard work. The talent, commitment and dedication that they have demonstrated will stand them in great stead for their next chapter.'
For further information about this article or the college in general, please contact our Marketing department by telephone on 01962 857553 or by email marketing@psc.ac.uk.