Peter Symonds students gobble up Fake Food at the University of Southampton
Peter Symonds students gobble up Fake Food at the University of Southampton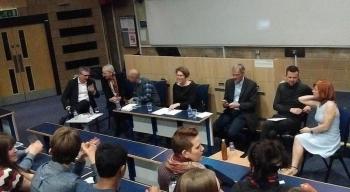 Students from Peter Symonds College and other colleges across Hampshire and Dorset attended a 'Question Time'-style event on 'Fake Food' at the University of Southampton, where they had the opportunity to put questions on food issues to a panel of experts.
The event aimed to explore the big food issues that matter from the very earliest points of development and across the life course. The panel included Nathan Atkinson, Headteacher and creator of Fuel for Schools; Dr Sarah Jarvis from BBC Radio 2's Jeremy Vine show; Dr Giles Yeo, an appetite scientist; Professor Guy Poppy, Chief Science Adviser to the Food Standards Agency and Ecologist; Professor Sian Robinson, Nutritional Epidemiologist and Registered Nutritionist; and Professor Mark Hanson, Scientist and developmental health advocate.
Biology teacher Julian Foster, who accompanied the students, said 'this was an illuminating and dynamic way to explore the issues surrounding health and diet. The students asked confident and insightful questions and were able to apply their scientific knowledge to create a lively and interesting discussion. It was wonderful to see them engage with experts in their field and direct the conversation to explore the issues they found most interesting.'
The Fake Food Question Time event followed on from a laboratory open day at the University of Southampton earlier this year, where students took part in experiments on stem cells, big genome data bases, molecular biology and nutrient analysis in the Institute of Developmental Sciences (IDS).
For further information about this article or the college in general, please contact our Marketing department by telephone on 01962 857553 or by email marketing@psc.ac.uk.