Holocaust Survivor Susan Pollack MBE Speaks with Symonds Students
Holocaust Survivor Susan Pollack MBE Speaks with Symonds Students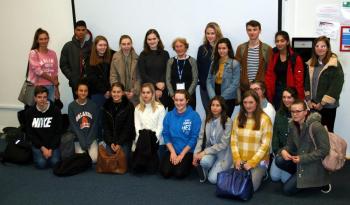 The visit was organised as part of the Holocaust Educational Trust's (HET) Outreach Programme, which uses the testimony of survivors to educate young people about the Holocaust and the important lessons to be learned for today.
Susan told students about her childhood in Hungary and her experiences in the Jewish ghetto in Vác, at Auschwitz, in a forced labour camp, and on the death march to Bergen-Belsen, from where she was liberated in April 1945. Susan went on to marry and have children, and a career as a librarian. She got a degree at 60 years old and spent over ten years volunteering for the Samaritans and at a local hospice. She has been speaking about her experiences for over 30 years.
Susan's testimony was followed by a question and answer session and some time for a more informal chat with students.
On the importance of educating young people on the Holocaust Susan said "It's not an easy life afterwards. It's hard to talk about it, but if one can make a tiny dent in racist beliefs it's perhaps an achievement. We have to confront the issue…we need each other to listen.
"Hate propaganda has the power to destroy people and we need decency, good will and moral standing to stand up and warn others of the dangers. Hate destroys not only the minority group but all of us.
"Sometimes no tears will be enough but I try to balance it with the gift of life and the opportunity to make a better world for all of us…Caring and compassion, helping others is a very enriching feeling. It's a good life, it is a gift, and we've got to make the most of it."
Reflecting on Susan's testimony, students described her as "incredibly strong," adding "I'm grateful I had the opportunity to hear testimony from someone who experienced it." They also commented "It's astonishing that she still wants to help people despite her experiences." "It's remarkable that she wants to recount her experiences to a younger generation and so important to continue to struggle against hate today – it's still so relevant which is shameful."
About Susan Pollack, MBE:
Susan was born into a Jewish family in Felsőgöd, Hungary, in 1930. Following the outbreak of the Second World War antisemitism in Susan's hometown increased dramatically, culminating in the deportation of the Hungarian Jews. In late May 1944 Susan and her family were sent by cattle truck to Auschwitz-Birknau, before Susan was sent to work in a factory as slave labour. With the Allies advancing the prisoners were forced on a death march to Bergen-Belsen, where Susan was liberated on 15th April 1945.
After liberation, Susan found that her brother Laci was the only member of her family to have survived: more than 50 of Susan's relatives had been killed during the Holocaust.
Susan was sent to Sweden for rehabilitation and then went to Canada where she met and married a fellow survivor. Susan has three children and six grandchildren. She now lives in London and regularly shares her testimony in schools across the country.
For further information about this article or the college in general, please contact our Marketing department by telephone on 01962 857553 or by email marketing@psc.ac.uk.