Students welcome Bank of England Chief Economist
Students welcome Bank of England Chief Economist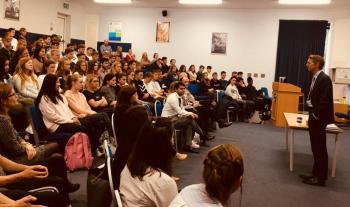 Bank of England Chief Economist Andy Haldane visited Peter Symonds College to discuss the current economic climate with students. Mr Haldane spoke to a lecture theatre packed with Business students, where he discussed monetary policy including interest rates and their impact on our lives. He also discussed with them the characteristics of a growing economy.
The team from the Bank of England were impressed by the answers Symonds' students gave to the questions they were asked and the thorough grilling they delivered when it was their chance to ask questions, with much of their interest revolving around the potential impact of Brexit
Alex Stickland, Head of Subject for A Level Business, said "It was a fantastic event. Mr Haldane was extremely informative and engaging, and the students did us proud with insightful questions and considered contributions to a detailed and complex discussion. We all learnt a lot."
Students have reflected on the experience and how much they gained from it; and were pleased to discover how much of what they study in class is representative of the real world. They were impressed and grateful that someone as high profile as Mr Haldane would take the time to come and talk to them and help them with their studies.
For further information about this article or the college in general, please contact our Marketing department by telephone on 01962 857553 or by email marketing@psc.ac.uk.