Peter Symonds College win ICMA Stock Market Challenge 2018
Peter Symonds College win ICMA Stock Market Challenge 2018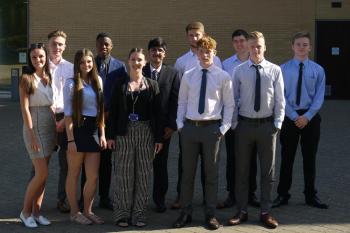 Twelve students from Peter Symonds participated in the event, with a team of two students from the College, Oscar Chessel and Aleksandra Kowalska, winning the Stock Market Challenge, which brings year 12 students from across the UK together to trade against each other on a simulated stock market using the ICMA Centre's unique dealing room facilities.
The competition gave students the chance to apply maths, economics and business knowledge in the fast-paced environment of stock market trading. Students had the unique opportunity to use the Centre's dealing room facilities, which are some of the most extensive of their kind in the world. Guided by trading specialists, some of whom have worked on stock market floors all over the world, students had some brief 'training' in how to use the trading system and participated in two 'live' trading sessions.
Using live business and economic news alerts to help them manage a portfolio of shares students attempted to buy and sell shares at the optimum time. The winning team were those who had the highest portfolio value at the end of the day.
Oscar and Aleksandra beat around 45 other teams with a winning margin of over £3 million, taking home a trophy for the College and an iPad each.
Reflecting on the event, one of the students commented "I found it difficult to understand the theory at the start, but when we actually started using the system and trading with other teams I loved it. It was so much fun."
Business teacher Nicola Thornton, who accompanied the students to the ICMA Centre, commented "The students represented the College excellently and approached the challenge with confidence, maturity and enthusiasm. They overcame any apprehension with determination and excitement. Their teamwork was exemplary and I was very proud of their approach."
For further information about this article or the college in general, please contact our Marketing department by telephone on 01962 857553 or by email marketing@psc.ac.uk.