National Recognition for Peter Symonds' Student Support Services
National Recognition for Peter Symonds' Student Support Services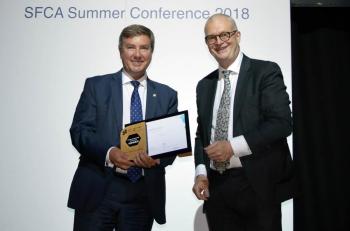 Symonds was awarded first place at the annual Sixth Form Colleges Association (SFCA) awards in the Student Support category.
The award recognises the importance Symonds places on Student Support, the range of services provided and the dedication of the Student Support team.
Since 2016 Symonds has operated The Hub, which provides mental health and wellbeing support for all sixth form students at the College, with the goal to support students to explore independent strategies to manage low-level difficulties such as low mood, anxiety, stress and low self-esteem. The Hub forms part of a comprehensive support package for students and works closely with the Study Support team, the Student Services department, the Counselling team and College Nurse.
The Hub provides a range of services including the Hub Coordinator, who works closely with students to establish which type of support would be best suited to their individual needs. The Hub offers drop-in sessions as well as group and one-to-one support focusing on specific issues like anxiety and stress, and hosts regular visits from Haatchi the therapy dog to enhance students' well-being and reduce their stress levels.
Julia Tucker, Deputy Principal for Students, said "The college motto is 'counting in ones', meaning that we treat each student as an individual who is to be valued, and whose needs we seek to meet both inside and outside the classroom. Since its establishment in 2016 the Hub has proved an invaluable source of support to our students, with each student visiting three times on average to take advantage of the services available, and it is wonderful to have the hard work and dedication of our support team recognised with the Student Support Award from the SFCA."
Stephen Carville, Principal, who collected the award at the Annual SFCA Conference, commented "Every student deserves to reach their goals and we are extremely proud of the work our Student Support Services do to ensure those struggling with mental health issues have the support they need to achieve their ambitions."
For further information about this article or the college in general, please contact our Marketing department by telephone on 01962 857553 or by email marketing@psc.ac.uk.