National Recognition for our Student Support Services
National Recognition for our Student Support Services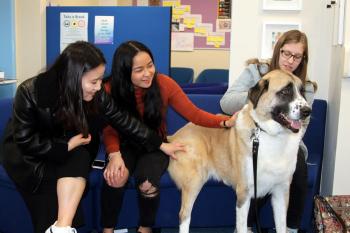 Mindful of the increasing volume of students suffering with mental health difficulties, Peter Symonds set up a support service for students in 2016 called the Hub. This provides mental health and wellbeing support for all sixth form students at the College, with the goal to support students to develop resilience and independent strategies to manage low-level difficulties such as low mood, anxiety, stress and low self-esteem.
The Hub co-ordinates a four-pronged approach comprising of daily drop-in sessions; one-to-one sessions with the Mental Health Advisor; groups, workshops and activities, including student mentoring and visits from a therapy dog; and information and resources for students and staff.
Julia Tucker, Deputy Principal for Students, said "It's a great achievement for our team to be shortlisted for the student support award by the SFCA recognising their hard work in supporting our students. Since its establishment in 2016 the Hub has proved an invaluable source of support to our students and the team work tirelessly to ensure every student receives the support they need to manage their difficulties, improve their mental well-being and reach their full potential."
For further information about this article or the college in general, please contact our Marketing department by telephone on 01962 857553 or by email marketing@psc.ac.uk.