BTEC Performance: Acting (Extended Certificate)
BTEC (2 Years)
BTEC Performance: Acting (Extended Certificate)
BTEC (2 Years)
Performance: Acting is a BTEC Extended Certificate, which is a two year course equivalent to 1 A Level.
Course Content
This is an exciting new course, which is designed for all those who want to perform and those who are considering becoming performers or theatre professionals. It is also suitable for those who are looking to broaden their communication and presentation skills and show that they are good at creativity and team work. You will be developing and extending all your performance skills in acting and movement with a view to broadening your skills to develop you into a versatile performer. Every unit is practical and contains performance. There are 5 units in total; 3 to be studied in Year 1 and 2 in Year 2.
Methods of Teaching
We encourage students to explore theatrical ideas in a practical way creating a variety of performances which will develop a range of performance skills. The course is taught through a combination of practical workshops, student led research, rehearsal and performance evaluation. Each unit has a performance aspect.
As well as being taught by our highly qualified staff, you will at times be invited to work with outside professionals. You will also be guided through your own independent study, creating a link between college, university and/or employment.
There are numerous opportunities to see live performances. The department take trips to London on a regular basis as well as visiting theatres that are nearer to home, such as The Theatre Royal, Winchester and The Point in Eastleigh. We also run an annual trip to New York.
An outline of Extended Certificate topics are listed below. The first 3 units are those which will be studied in the first year:
Developing Skills and Techniques for Performance: (Internally Assessed) - This unit is about developing the skills required to use the voice body to explore performance skills in a creative context. This unit enables students to develop a range of approaches to acting through studying different acting skills and techniques and applying them to performance. Students will plan and produce two performances.
Acting Styles: (Internally Assessed) - This unit enables students to develop a range of approaches to acting through studying different acting styles and applying them to performance. Students will plan and produce two contrasting performances of scenes drawn from scripted plays.
Acting for Screen: (Internally Assessed) - In this unit, you will develop an understanding of how to apply your acting skills and techniques in front of the camera. You will learn how to scale your performance both physically and vocally to suit the requirements of the camera. Screen acting gives a range of employment opportunities, including working in television drama, performing in adverts motion-picture acting and corporate training and information work. This unit will provide you with the technical know-how for working on a film/TV set or location.
Physical Theatre: (Internally Assessed) - Students will explore and develop physical theatre forms and techniques and applying them to performance for a live audience.
Group Performance Workshop: (Externally Assessed) - This unit requires students to develop a performance as part of a group. Students are required to follow a process of warm-up, devising, rehearsal techniques and final performance. Productions will be based on a variety of stimuli set down by the exam board and students will be guided through the performance process through a series of workshops and rehearsal. We will also work with professional companies to gain valuable insight into the profession.
Methods & Patterns of Assessment
A BTEC in Performing Arts can help you achieve your full potential as a performer. Students are rewarded along the way for consistent hard work, without the added pressure of exams at the end.
The course is totally assessed through a range of assignments and performances.
There are no examinations.
Financial Implications
You will be asked for a payment of £120 at the start of each year which covers visits to professional performances, including any travel costs, and also professional workshops. The cost of each trip/workshop will be specified in a letter given to the students prior to each activity. Included in the one-off payment is a contribution towards the costs of hand-outs and other resources, at the start of the course.
The college has a Student Support Fund for those who have financial difficulties, so please do not allow any worries in this area to prevent you from embarking on this course.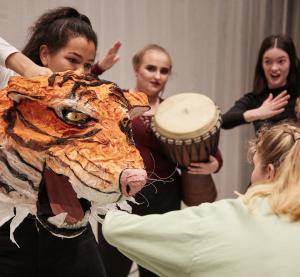 Where Could It Take Me?
The Performing Arts BTEC has been designed to provide a broad training for actors and performers to develop the skills needed to become a professional performer or theatre practitioner
Entry Requirements
5 GCSEs at grade 4 or above, including English and Mathematics.