BTEC Sport (Subsidiary Diploma)
Edexcel (2 Years)
BTEC Sport (Subsidiary Diploma)
Edexcel (2 Years)
The Subsidiary Diploma is a two year course equivalent to 1 A Level
Course Content
The units will be selected from core units and specialist units taught over a two year period;
Principles of Anatomy and Physiology in Sport
The Physiology of Fitness
Assessing Risk in Sport
Fitness Testing for Sport and Exercise
Sports Coaching
Fitness Training and Programming
The Athlete's Lifestyle.
Methods of Teaching
The course is structured to have 5 lessons per week. Each unit assessed at any one time will typically have three assignments, where students are supported extensively, being guided through the assignments and given tips on information to include. The whole course is supported by an excellent intranet site, containing all of the information students need, as well as additional support sessions during study periods.
Throughout the course, tutorial sessions will form part of the timetable which can be accessed by the students. Here, students can meet with their course tutor weekly, discussing their current progress, gaining feedback on their assignments and receiving support and guidance in their career aspirations. Student progress is also tracked throughout, so students are aware of what grades they have achieved, and what they need to attain to achieve their desired grade. This all forms a vital part of the student success on the course.
Students will have the opportunity to undertake additional courses including:
HSLA (Higher Sports Leader Award)
Extended Project
First Aid
Child Protection in Sport
There will also be an opportunity to complete sport specific leaders awards with related National Governing Bodies. These will provide excellent additional qualifications for prospective employment and unit criteria will be integrated within them. The course may also involve field trips, where certain units will be studied.
Methods & Patterns of Assessment
Due to the diverse nature of the course, a wide variety of teaching and learning styles will be utilised by the team. Many units will involve practical work, and assessment will be carried out on an individual and group basis, so students will be expected to fully participate.
Financial Implications
A course contribution of £50 gives the students access to the core text books, a course polo shirt, a stationery starter pack and payment towards all trips across the course. Work placements may require students to hold a valid police check (DBS). Students will need to pay approximately £44 for this, however we will confirm the cost closer to the start of the course. Students can apply for help to meet this cost from our Student Support Fund.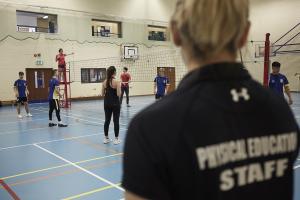 Work Experience
At the end of year one, students will have the opportunity to complete a one week, sport industry-related work experience placement, aimed at their personal career development. This is entirely optional and does not form a compulsory part of the course.
Where Could It Take Me?
This course would be most suitable for students who have a keen interest in sport, who wish to study sport further into higher education or alternatively enter employment in to the sporting industry. Previous students have pursued various sport related degrees (at universities including Bath, Loughborough and Birmingham), as well as employment in personal training, massage therapy or coaching.
Entry Requirements
5 GCSEs at grade 4 or above, including Mathematics and English.