BTEC Information Technology (Certificate)
Edexcel (2 Years)
BTEC Information Technology (Certificate)
Edexcel (2 Years)
The BTEC National Certificate in IT is a one year course, equivalent to an AS Level. You will progress to the Subsidiary Diploma in year two, which is equivalent to one A level.
Course Content
This qualification is designed to support learners who are interested in learning about the computing sector alongside other fields of study, with a view to progressing to a wide range of higher education courses, not necessarily in the computing sector. It is designed to be taken as part of a programme of study that includes other BTEC Nationals or A Levels.
You will study your two core units* in your first year:
Certificate in IT (Year 1):
Communication & Employability in IT *
Computer Systems*
E-Commerce
Subsidiary Diploma in IT (Year 2):
In your second year your units of study are;
Information Systems
Digital Graphics
Digital Graphics for Multimedia
Note: * denotes mandatory units
Methods of Teaching
The BTEC Nationals in IT are a suite of advanced level vocational qualifications which involve the theoretical and practical study of both computer hardware and software related topics. The course provides specialist knowledge, transferable skills and hands on practical experience in core topics within the Computing & IT sectors. The course has a unit based structure and you will be able to apply the knowledge you gain over a mixture of project-based assessments.
Methods & Patterns of Assessment
The Certificate and Subsidiary Diploma will be assessed using a mixture of methods and are all internally assessed by the college via coursework.
The Certificate, consists of 3 units of which 2 units are mandatory and 1 unit is optional. All units are internally assessed by the college via coursework.
The Subsidiary Diploma, equivalent in size to one A Level consists of 6 units of which 3 units are undertaken in year 1 and 3 units in year 2. A mixture of college set assessments are assessed internally via coursework.
Financial Implications
The course is predominately assessed via the College Intranet and Moodle. There may be some costs for printing but this will be minimal. Course booklets can be purchased through the intranet bookshop. There are two core books published as course companions. Students will have access to e-books.
There are likely to be trips and visits to industry which may incur some expense but we will endeavour to cover costs where possible.
The College has a Student Support Fund for those students who have difficulty meeting these costs.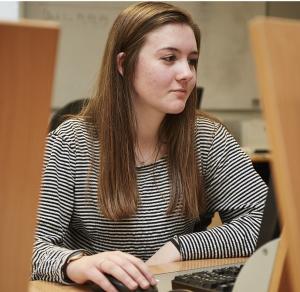 Where Could It Take Me?
The BTEC Nationals in IT are recognised by both higher education establishments and industry. The courses are suitable for students who have a keen interest in following a career in the wide field of IT and Computing and who may wish to go directly into employment or undertake an Apprenticeship after completing the qualification as well as those who wish to embark on a degree course at university.
When taken alongside other Level 3 qualifications such as A Levels or other BTECs, these qualifications provide an opportunity to progress to a degree in a computing discipline or a degree where computing-related skills and knowledge may be advantageous, such as business studies.
These qualifications carry UCAS points and are recognised by higher education providers as meeting admission requirements to many relevant courses.
Entry Requirements
5 GCSEs at grade 4 or above, including Mathematics and English.